Technology advancements are set to deliver safer, equitable and sustainable health services to patients.
Step into the vibrant world of #MedInfo23, where healthcare innovation took centre stage! It has been a few weeks since the event, and we can't stop raving about it. The gathering brought together the broader health ecosystem, and it was an absolute joy to witness the launch of our managed service for virtual care. Stay tuned as we roll out this offering with health services and share more exciting news in the coming months.
The turnout was nothing short of spectacular, with healthcare professionals from every corner of the globe gathering together. The diversity of minds, including researchers, clinicians, and hospital executives, was truly inspiring. Together, we delved into remarkable initiatives, learned invaluable lessons, and explored new models of care, all with one shared goal: to enhance healthcare and make a positive impact on patients' lives.
The trade exhibit showcased an array of healthcare-centric solutions with a personal touch that featured the customer stories behind these innovations. And worth a mention is the enthusiastic start-ups with their ingenious point solutions bringing a sense of excitement to the event as they find their way within the industry. Overall it was a powerful reminder of the vast pool of talent and creativity available to us.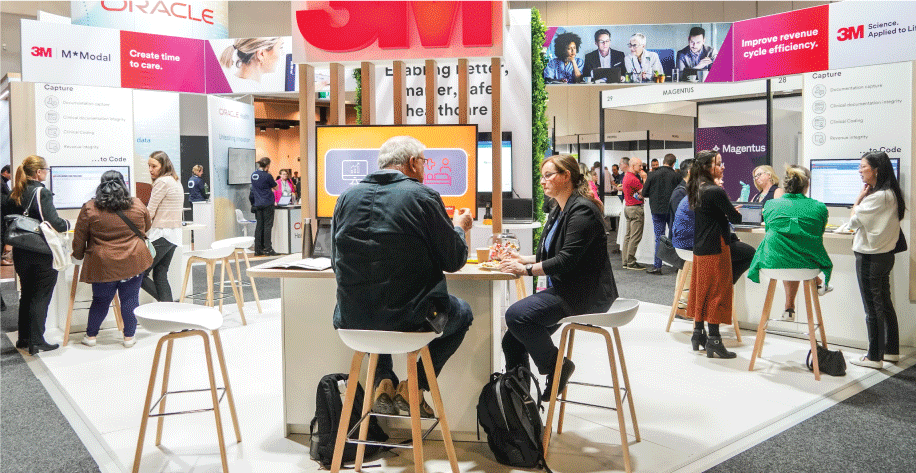 Let's talk about the real stars of the show: AI, ML, and data sharing. From the moment experts like Dr. Shashi Gogia spoke about using voicebots to tackle language barriers and support diagnosis in diverse environments, there's a realisation just how impactful this technology is going to be in this space. Case studies showcased ML/AI implementations supporting wound care, pathology analysis, illness prediction based on live wearable data, and patient communication solutions. However, amidst all the excitement, we also had meaningful discussions about the responsible use of AI and the need for a governance layer to ensure it enhances the quality of care.
Beyond the hospital setting, we explored innovative models of care that are reshaping the healthcare landscape. Telehealth, virtual care, remote patient monitoring, hospital in the home, and virtual emergency departments are all gaining momentum. The focus on delivering care at home, freeing up resources, and preventing unnecessary hospital visits has become a reality. It's amazing to see how quickly virtual health has become an integral part of healthcare, especially in light of the challenges posed by COVID.
In healthcare, progress is often quite slow, and certain ideas are discussed for years without gaining much traction. Remember the discussions about open communication and interoperability standards in healthcare back in the early 2000s? Although initiatives like FHIR are making headway, in Australia, we still have some distance to cover in our quest for a patient-centric healthcare model where data can be shared when necessary. However, the COVID pandemic has accelerated the adoption of virtual health, propelling it from theory into practice at an unprecedented speed.
Over the past 3-5 years, the progress in this field has been nothing short of extraordinary. Take, for instance, RPA Virtual at Sydney LHD, whose pioneering efforts in virtual health have directly benefited an astounding 32,000 patients. Not only that, but they also provided crucial quarantine discharge support to 15,000 patients and delivered in-person community nursing care to 8,000 patients in the comfort of their homes within just two years of launching. Such an immense achievement becomes even more remarkable considering the challenging backdrop of the COVID pandemic. Despite the turbulence, their dedication and success continue to shine bright, leaving a lasting impact on patient care.
Around 2020, the Calvary/Medibank joint venture for Wellbeing SA achieved a momentous feat, scaling up to become the largest Australian hospital in the home program known as "My Home Hospital," a success that continues to this day. Similarly, Ramsay Connect's demonstrated this model of cares benefit by reducing bed days by a staggering 30,000, a feat equivalent to running a 104-bed virtual hospital. In addition to this, their hospital-at-home program has delivered an impressive $16 million in savings to health insurers.
Let's not forget to acknowledge our esteemed partners and friends at Propell Health, who have been instrumental in deploying their iHealth devices to Bendigo Health, making it one of the largest installations of its kind in the region. This achievement is further complemented by the rapid expansion of telehealth services in the area. What's more, virtual health is steadily becoming a standard feature on the digital health roadmap of most health services, both government and private. Coupled with the numerous unsung initiatives being undertaken by healthcare providers, it is evident that virtual health will soon be a norm, just like any other healthcare service. This trend is strongly supported by our international peers who have already successfully scaled such services in their respective countries. The future of virtual health in Australia is undeniably promising!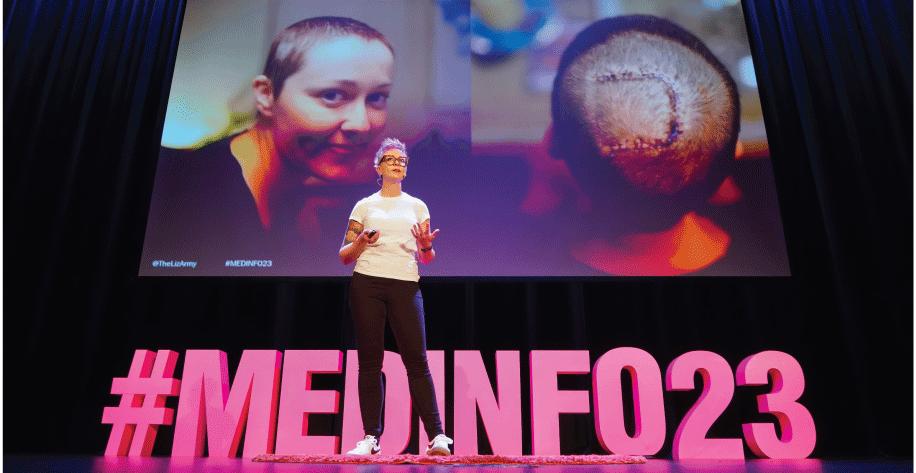 Now let's head back to the event! We explored exciting possibilities, such as the concept of monitoring newborns' weight at home, offering mothers the opportunity to return home earlier with their little ones, especially in remote settings where families have to travel long hours to access medical facilities. Additionally, we explored various aspects of patient care, including rehabilitation, COPD, diabetes, infectious diseases, and sexual health, all with the aim of providing patients the choice to be treated at home or return home sooner. The reassurance that their dedicated nurses and clinicians will continue to monitor and care for them regardless of their location is sure to have a wide uptake.
As an organisation, we have embraced the power of AI while reimagining our virtual command centres and contact centre solutions. This has given us a firsthand understanding of the remarkable impact it has on enhancing efficiency and user experience. Yet, to our surprise, we discovered that the potential of this technology extended far beyond what we initially imagined. The tentacles of AI in this area of tech reached into realms we had not fully anticipated, leaving us inspired about the endless possibilities it holds.
Embracing technology is crucial in supporting these initiatives on a larger scale. From medical devices like iHealth to virtual software for alerting and visualisation, and not forgetting telehealth/video consult solutions that facilitate seamless communication, technology plays a defining role in making these advancements possible. Nevertheless, challenges lie ahead, such as ensuring that the necessary equipment reaches the patients and assisting those who may not be tech-savvy or in compromised health conditions to adapt to these solutions. Moreover, being environmentally conscious adds another layer of responsibility to manage the proper disposal and recycling of devices. Rest assured; we will delve deeper into these matters in an upcoming article.
We are incredibly grateful for the warm reception and support we received at #MedInfo23. As a part of the thriving healthcare ecosystem in Australia, we are excited about the opportunities ahead. Join us on this remarkable journey as we reimagine healthcare through virtual health solutions and strive to create a brighter, healthier future for all.
28 August, 2023
Share this: